Use code " SAVE200 " to get an Extra $200 off discount :)
CHARGE TIMES

Refrigerator(800w)  1.6Hrs+

CPAP(60w)  22+Hrs

Laptop(60w)  22+ Recharges

Fan(12w)   106Hrs+

Smartphone  128+ Recharges

Led lantern light(10w)  128Hrs+

LCD TV(100w)  12.8+Hrs

PORTS

Input:AC Charging/PV Input Port: 7.9*0.9mm DC

42V/160W, OCV 16V~68V /MAX.10A

PV Max Input Power MAX.500W./10A 

Outputs: 2*AC110V Ports, 1*12V9A DC Port

1* 45W PD USB-C Port

4*5V3A USB-A Ports

BATTERY DETAILS

LG Lithium Ion Battery Cell

Pack Capacity: 1500Wh/1000W

Lifecycles: 2500+ Cycles

Shelf-Life: Charge Every 3-6 Months

Management System: 'MPPT' Charge Controller, Low Battery Protection

GENERAL

Sku: Bluetti EB150

Size&Net Weight: 14.6*6.5*14.4inch,37.9lb.

Warranty: 24 Months

Operating Temperature: 0-40°C

Safety By Design:

Battery Management System (BMS) Enables Short Circuit Protection, Voltage Control, Temperature Control And More Advanced Safety Operations. Other Enhanced Safety Features Includes:

LCD Screen With Charge/Discharge And Battery Life Status Switch With Indicator Light For On/Off Output Port Charging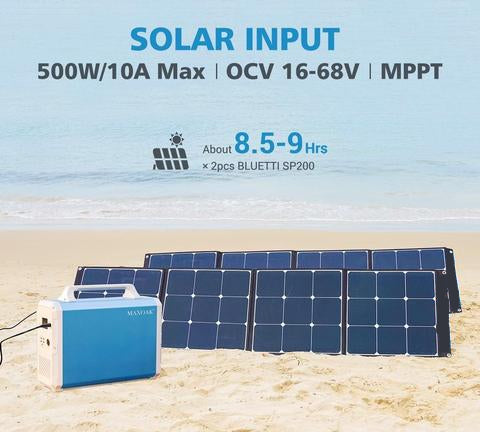 What is the capacity of this EB150 power station?
1500Wh,101351mAh/14.8V( equivalent to 405405mAh 3.7V).
What kind of battery cell used in the EB150 power station?
We built in LG Li-ion battery cell, ,4S3P.
Can charge and discharge at the same time?
Yes, you can.
What kind of product can be charged by the EB150 power station? For AC powered device, make sure the max. power of the device is no more than 1000W. for overload capacity, 1000W ≤Load<1200W @2Min,1200W≤Load @1s;
How to choose compatible Solar panel?
It must meets:
1)Open Circuit Voltage(OCV):16-60V/Max.10A, Max.500W (DC7907 to MC4 Charging cable is included)
2)MC4 Connector
Tips: make sure the total OCV(open circuit voltage) is no more than 60V if you connect several solar panel in series!!
How long can be recharged by Solar Panel?
It depends on the input power of the solar panel and the strength of the sunlight.
For
example, for 300W input solar energy, the charge time is about
5-5.5Hrs. for 500W solar panel, the charge time is about 3.5-4hrs.
How long should I recharge the EB150 power station if I do not use it for a long time?
We suggest to recharge it very 3 or 6 months for better protect the battery cell and ensure a longer life cycle.
Anything else important should I know?
Note:When the total output power exceeds 1000W, the DC output will be directly shut down. When the load is less than 30W, the output power would not be displayed. When a high-power appliance is attached to the product, the displayed output power and the actual output power could be different for up to 30W.
Speesion EB150 1500Wh/1000W Portable Power Station is the most popular one in the market, features 1500Wh capacity, 1000W rated power (1200W surge power) and multiple output charge/recharge ports. 

Powerful inside with versatile exterior output ports could keep your lights on, phones charged. Power supply for your GPS, electronic barometer, TV ,gaming PC, dehumidifier, snow blower, mini-refrigerator, portable stove, medical equipment, power your appliance anytime.
Be aware of the potential danger, confront with critical circumstance with EB150, sustainable power supply could save life.
Plug-and-go completely take the place of Gasoline Generator
Industry-leading Technology Including 1000W AC and 45W USB-C Power Ports
MPPT Built-In
Ultra-Safe Lithium Battery
Intelligent Cooling System
Charge Methods(Solar Panel,200w AC Wall Outlet)
 Package Includes:
1*Portable Power Storage (EB150)
1*200W AC Wall Charger
1*PV Solar Charging Cable(DC7909 To MC4)
1*User Manual
1*Certificate Of Qualificatition