Zoom the image with the mouse
Vanpowers Solar Generator (2000W Power Station+200W Solar Panel)
Free Shipping
on all US orders
Brand Authenticity
100% genuine products
Free Returns
online and in-store
Online Service
Outstanding Customer Service
【US warehouse】About 200W solar panel:

Higher energy conversion rate: With a long-lasting ETFE (Ethylene tetrafluoroethylene) thin film surface, the Vanpowers 200 panel has up to 95% transmittance which can absorb 40,000 LUX or more sunlight to improve charging speed. We use high-efficiency SunPower solar cell single crystal, compared with polycrystalline materials, they have a higher conversion efficiency of up to 23%, it's ideally suited for outdoor life and even unexpected power outages.

Power it all: The product is equipped with these four output ports: MC4 to Anderson, DC5521, DC7909, and a car output, which can charge mobile phone batteries, smartphones, laptops, cameras, etc. at the same time. 200W solar panels can increase the input power and reduce the charging time of the power station by connecting several solar panels in series, giving you enough power for any adventure.

Built to last: With advanced ETFE-laminated technology, solar cells offer weather-resistant outdoor durability and longer life. The panel is built with a long-lasting ETFE coating and the IP65 junction box is designed to withstand any scratches and water splash, perfect for camping, fishing, hiking, and much more. (Prevent exposure to rain or no soak in water)

Foldable design, easy to carry: With a sturdy handle, you can take the Vanpowers 200 anywhere else for camping or leisure. Folding design takes up very little space in the car, making travel more convenient.
Click To Download Vanpowers 200W Solar Panel User Manual
MORE POWER MORE FUN
Equipped with Sunpower monocrystalline silicon solar cells, Vanpowers SP200 solar panel conversion efficiency is as high as 23%. With ETFE up to 95% light transmittance, which can absorb 40,000 LUX or higher intensity of sunlight, it performs better than polycrystalline solar panels in low-light conditions and much higher than the market's average. And 45-degree folding bracket is the optimal angle is fully absorbed sunshine.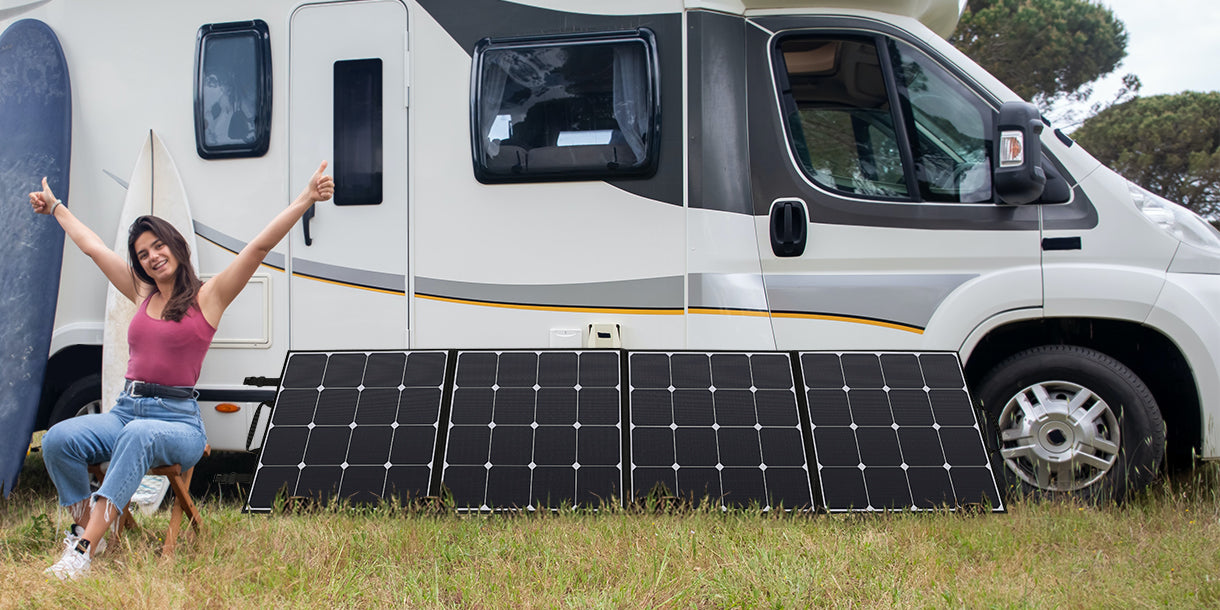 DURABLE, DUST & WATER RESISTANT
The Vanpowers 200 Solar Panel has IP65-rated dust and water resistance, no deformation, fading, and anti-scratch wear, which is ideal for outdoor activities like camping and hiking. ETFE film provides extra protection against ultraviolet light, prolonging the lifespan of the product. A double zipper storage bag help store and protect the cable and ports in a storage bag.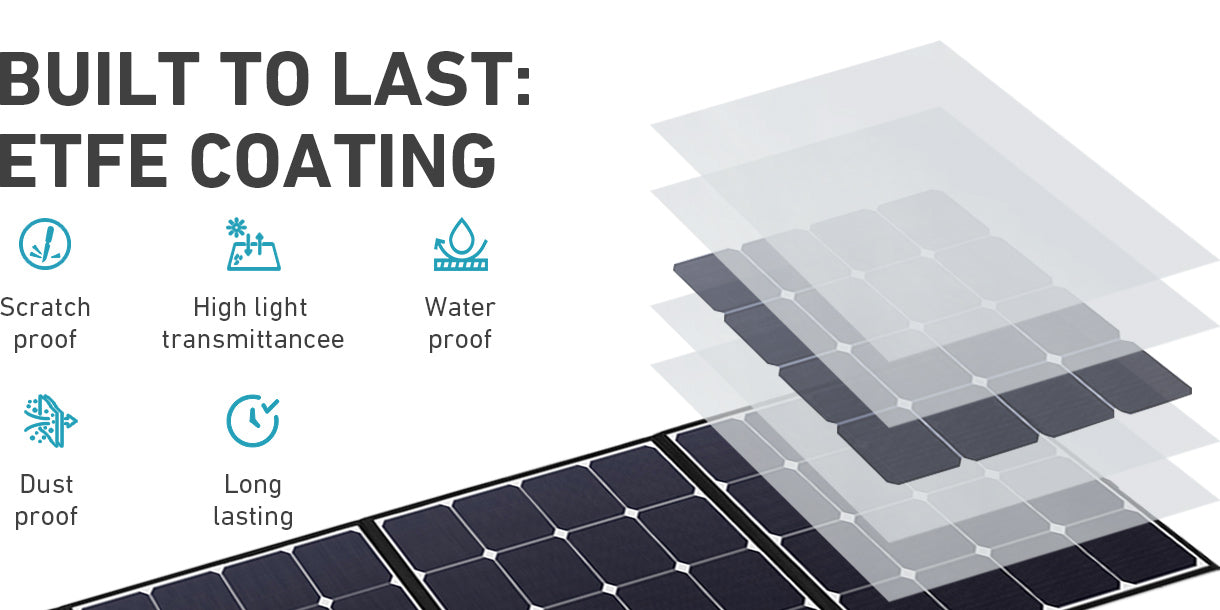 EXPANDABLE FREE GREEN CLEAN ENERGY
We always strive to capture the possibility of utilizing a more powerful resource method through mother nature - the Sun. Our SP 200W Portable Solar Panel is here to do the work. You can connect it in series or parallel for more solar power to charge your power station, building your off-grid power system quickly. Note: The optimal number of solar panels in series or parallel is two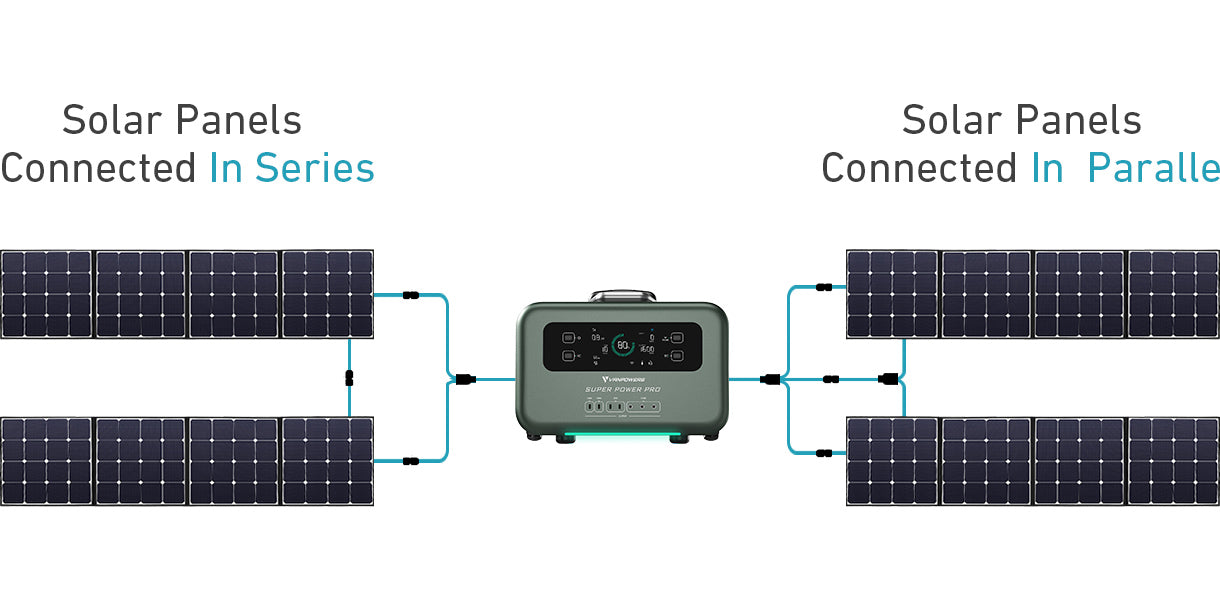 【US warehouse】About 2000W power station:
Recharge at high speed: With the GridFlow technology you can charge Super Power Pro 2000W at up to 1,800W to 80% in 1 hour via AC or Solar, and a full charge in just two hours away.

2,096Wh/1440Wh huge capacity: Always ready to Recharge, devices can be powered by it for a prolonged period - whenever, wherever, for camping, RV/Van life, any outdoor activities, or emergency home backup.

Wide compatibility more power: while Super Power Pro's only have 2,000W output, and 4,000W surge capability, it can power devices that typically need up to 3,000W thanks to the Amp Up feature. So you can power your laptops, drones, fridges, projectors, microwave, CPAP, coffee maker, or other essentials around the house, even as a backup for your electric vehicle.

All the ports your need: 14 output ports to charge all your devices at once, the perfect companion to charge your devices and appliances during power outages.: 6x AC outputs; 4x USB-C outputs; 3x DC outputs; 1x Car outputs.

7 recharging ways for choose: AC Outlet(1,800W, 2 h), Solar panels via AC(1,800W, 2 h), Solar panels via XT60(600W, 4 h), Car charger(120W/240W, 19/9 h), Generator(1,800W, 2 h), AC+DC (2,400W, 1.5), EV-AC adapter via AC input (1800w 2 h).

Show-Off App and 6.1" Clear Display: Super Power Pro companion app gives you theft protection, remote status updates remote control, location services, and access to lots of advanced features. And Super Power Pro's 6.1" color LCD screen, high brightness under strong light, you can clearly see information such as Wifi, power usage, remaining charge, environmental conditions, and so much more.

Easy portability, endless possibility: Made for when you're on the go, Super Power Pro 2000W has a built-in ergonomic telescopic aluminum handle, industrial-grade wheels, and a low center of gravity design, and it's sturdy enough to stack another item on top.

Click To Download Vanpowers Super Power Pro 2000 User Manual
Note: Kindly advise you to upgrade the firmware before using the Power Station---Learn More
WHY CHOOSE US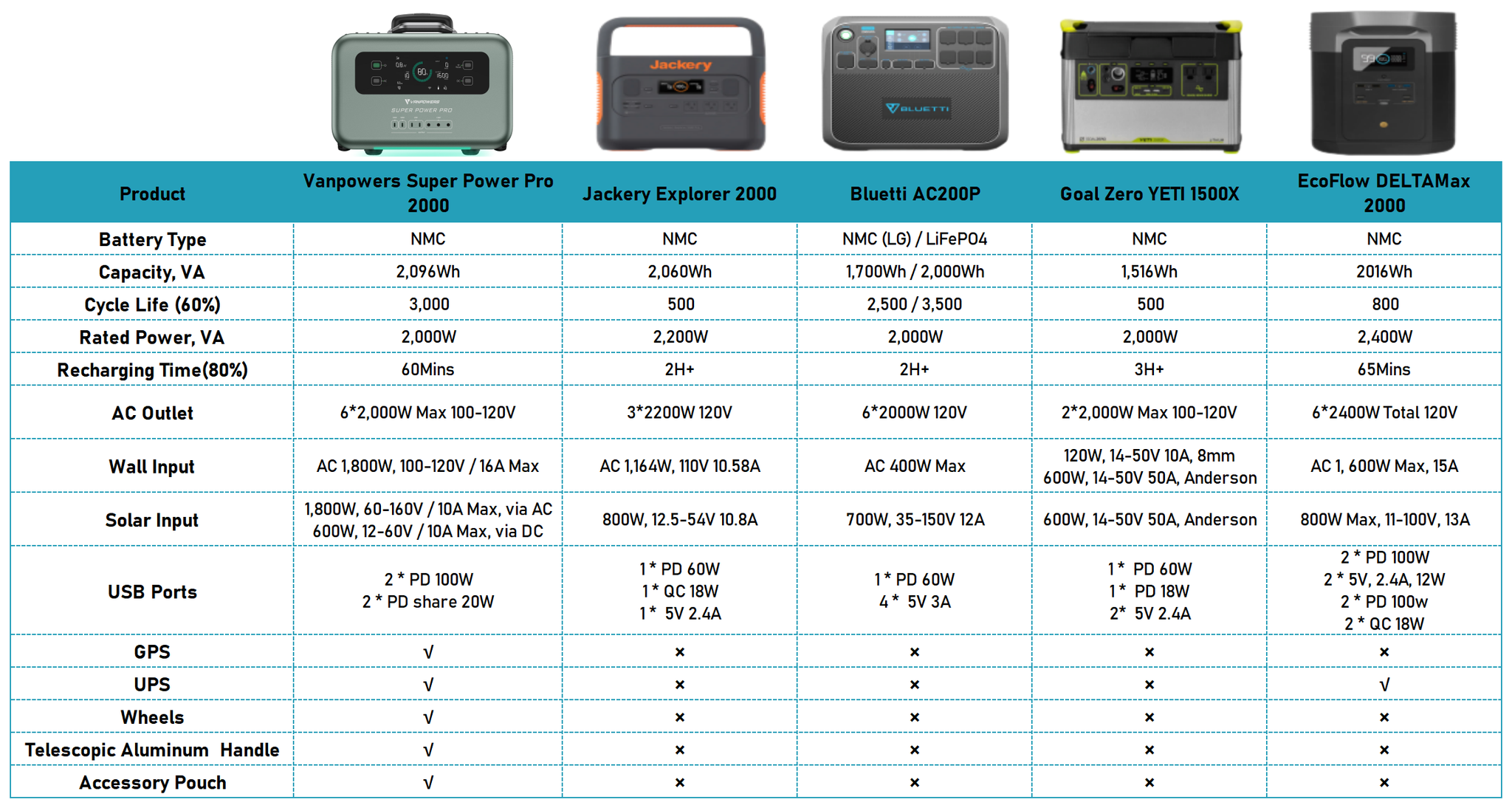 SUPER FAST RECHARGE IOT POWER STATION
Still, waiting for charge up? Choose Vanpowers Super Power Pro, avoid long waits, and start camping at any time. With GridFlow technology, it can be charged up to 80% in just one hour at up to 2,400W from an adequate AC, solar, or generator. And a full charge is just two hours away.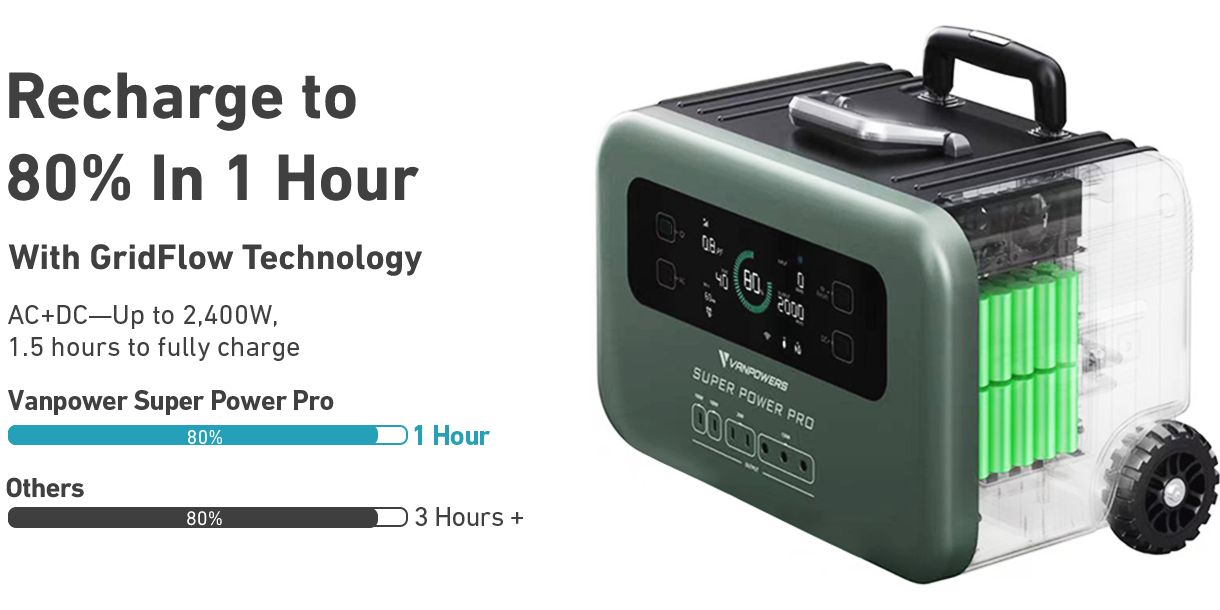 CLEAN, GREEN, CHEAP, AND SUSTAINABLE POWER
Solar-powered charging stations are environmentally friendly and affordable for all. Super Power Pro can handle solar arrays of any size up to 1,800W with PVMax* tech, which means your solar setup can charge a power station with the same superfast performance you'd get from conventional charging.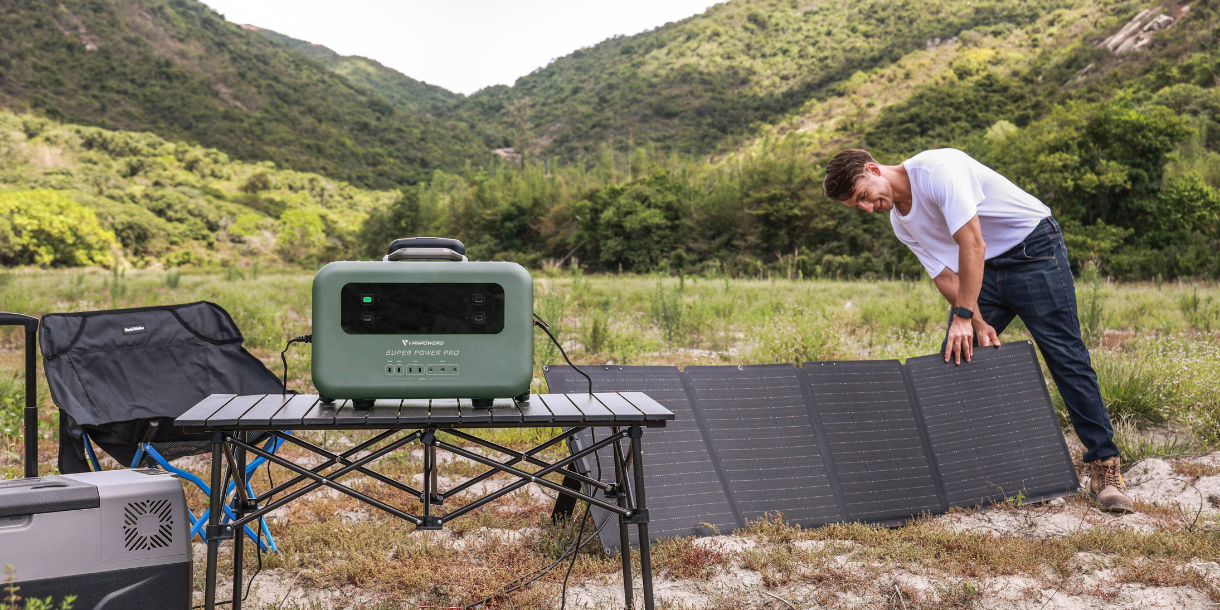 POWER UP TO 14 DEVICES AT ONCE WITH ALL THE PORTS YOU NEED.
With 16 Incomparable versatility outlets, Super Power Pro 2000W can comfortably support your outdoor life or provide relief during a power outage.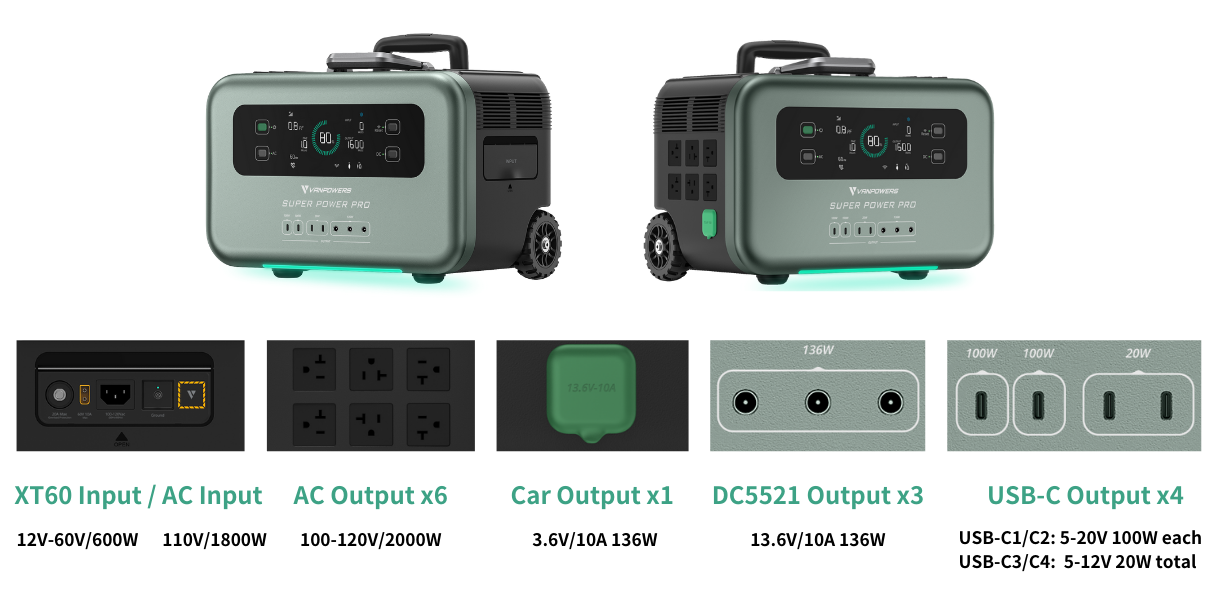 ULTRA-CLEAR LED DISPLAY, NOT AFRAID OF STRONG LIGHT
Keep Track of Your Power. The large LED display lets you easily track Super Power Pro key information including real-time information about power usage, remaining charge, environmental conditions, and so much more.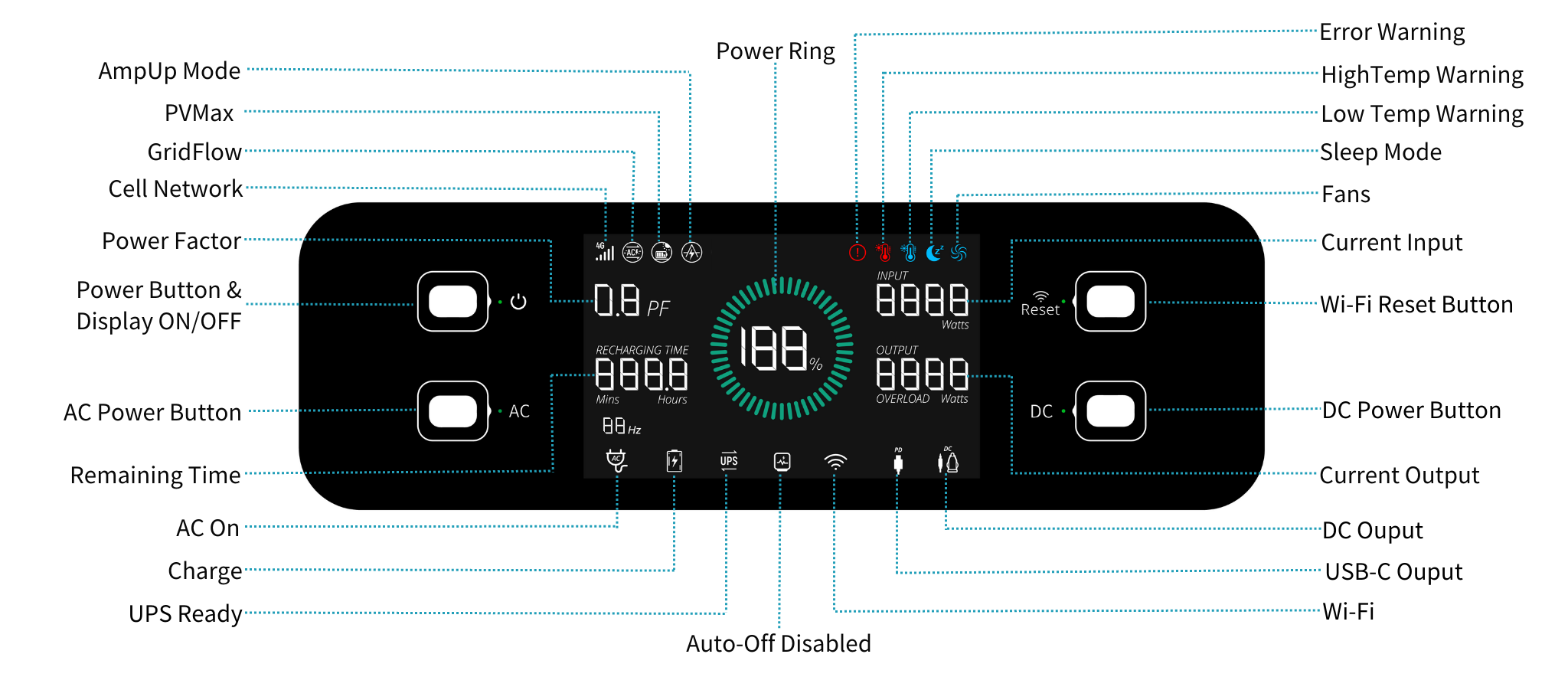 IDEAL MOBILE OFF-GRID POWER SUPPLY
2,096Wh/1,440Wh large capacity always gets ready for power outages and on-the-go events. Super Power Pro 2,000W can power your off-grid camping equipment and home equipment for a prolonged period such as laptops, LED lights, drones, mini refrigerators and projectors CPAP, and other equipment.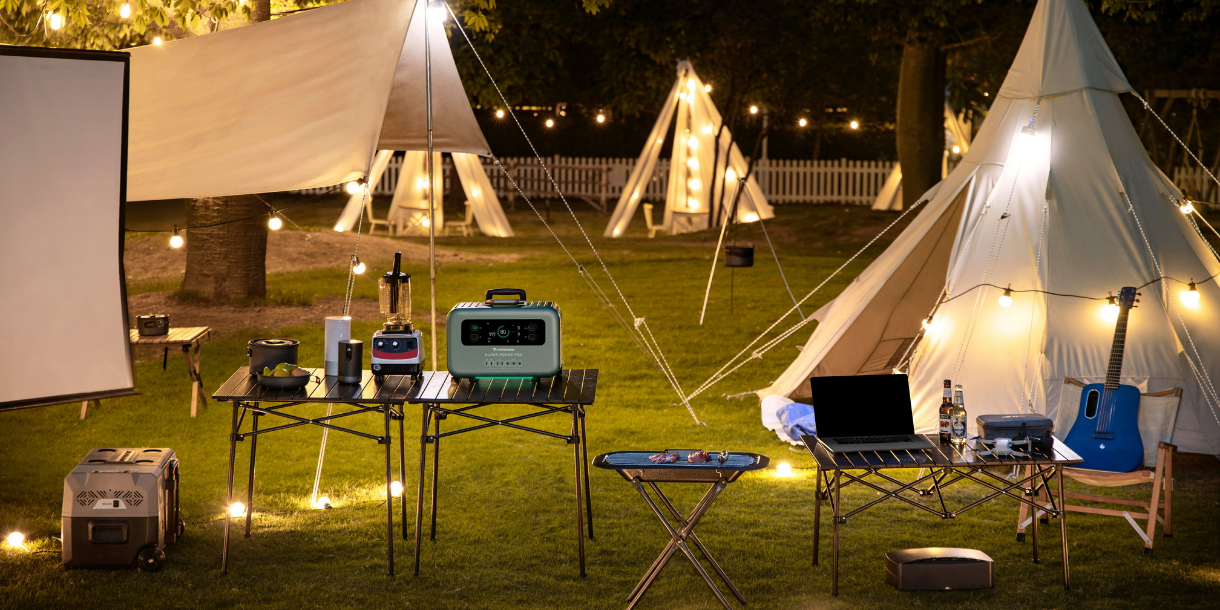 READY TO MOVE ANYTIME AND ANYWHERE
Designed for easy maneuverability and mobility, Super Power Pro has industrial-grade wheels, a telescopic aluminum handle, and a low center of gravity so your child can also move it easily outdoors. It's sturdy enough to stack another power station even a guy on top if you need to.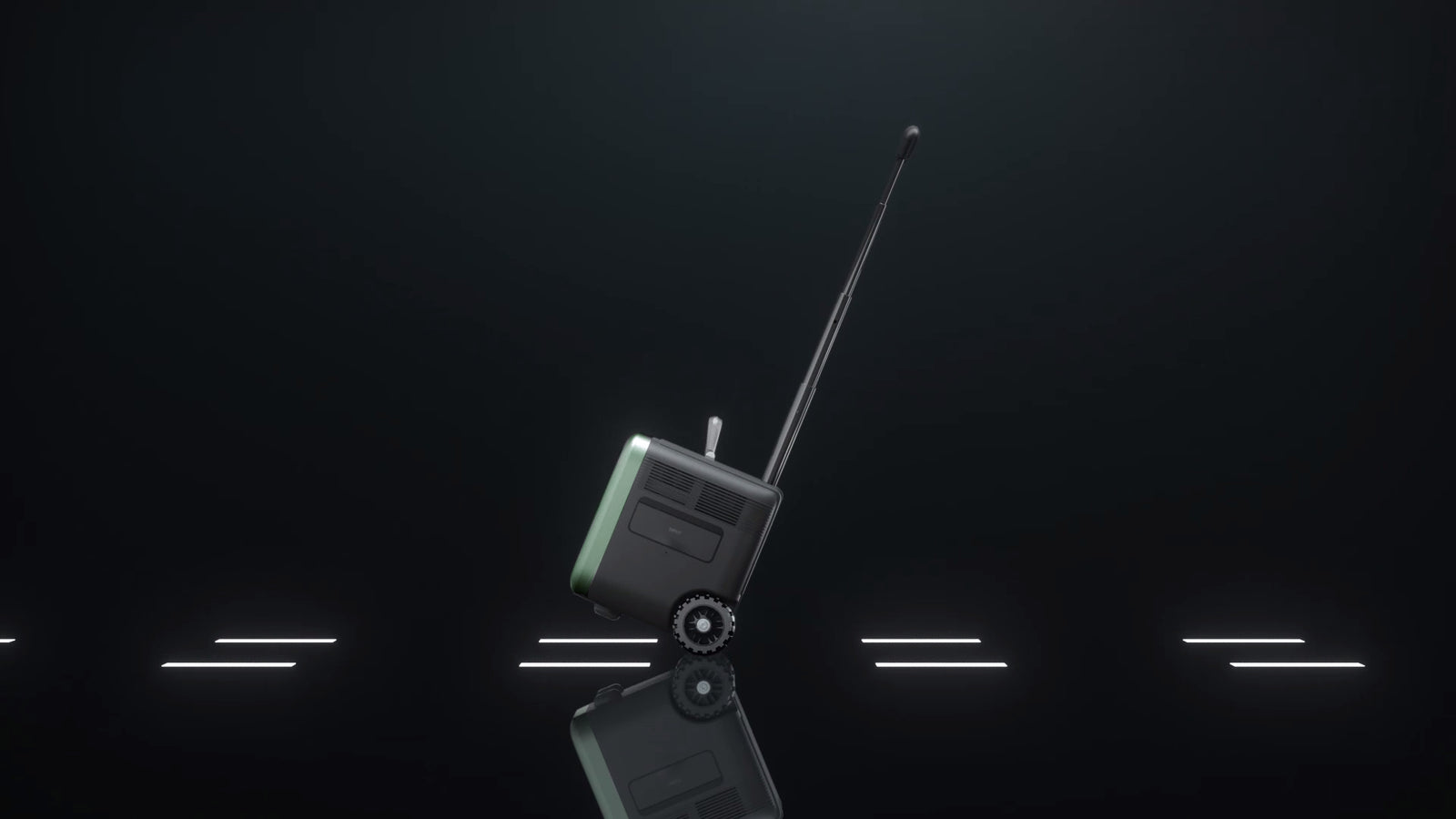 2,000W PURE SINE WAVE INVERTER, UP TO 3,000W
With 2,000W of AC output and 3,000W Ampup* capability, Vanpowers Super Power Pro is capable and safe enough to take care of your high-power devices like a microwave, washing machine, coffee maker, induction cookers, vacuum cleaners, chainsaws, drills, or other essentials around the house.
24/7 UPS HOME BACKUP
Remember when you had to worry about a power outage? Worry no longer, Meet Super Power Pro 1500/2000. Automatic equipped with Uninterruptible Power Supply (UPS*) functionality built right in, you can just tie the Vanpowers power system to your home grid, and connect essential devices to Super Power Pro, no worry about an unexpected blackout damaging sensitive electrical equipment. *UPS is applicable to electrical appliances below 2,000W.
SEVEN CHARGING METHODS FOR YOU TO CHOOSE
Flexible to charge your Super Power Pro via a wall outlet, solar panels, car, generator, EV, etc. Going outdoors with no worry about running out of power.
7 Ways to Charging: AC Outlet (1,800W, 2 h), Solar panels via AC (1,800W, 2 h), Solar panels via XT60 (600W, 4 h), Car charger (120W/240W, 19/9 h), Generator (1,800W, 2 h), AC+DC (2,400W, 1.5), EV-AC adapter via AC input (1800w 2 h).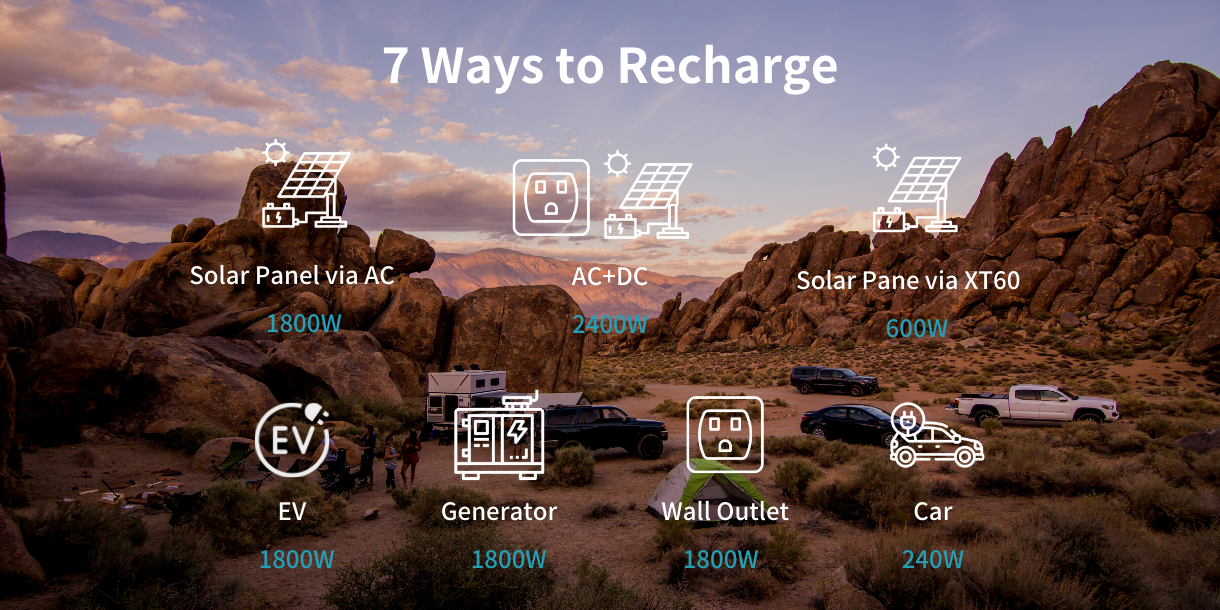 APP REMOTE CONTROL AND IOT CONNECTED
The cool guy deserves a cool App. Built-in GPS and 4G IoT (Internet of Things) hardware, our companion app gives you remote control, GPS global positioning tracking, theft protection, remote status updates, and access to lots of advanced features. As long as you have a 4G signal, you can manage your power station anywhere.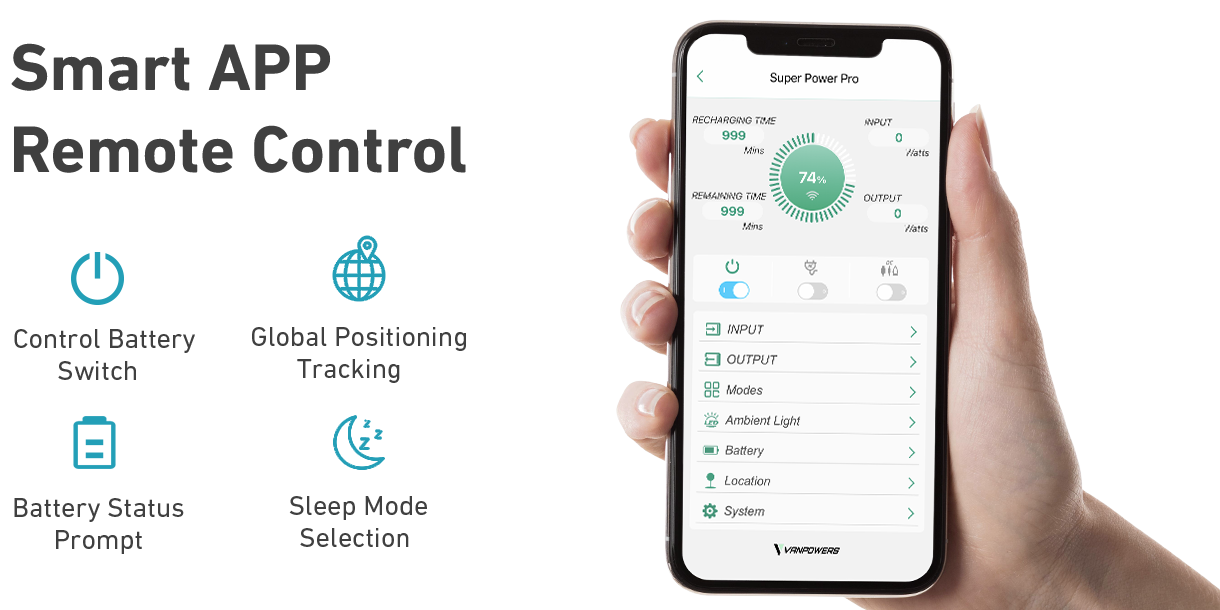 SAFE & STEADY POWER SYSTEM
The Super Power Pro 2000W is equipped with a Vanpowers quality-built battery management system that has passed various safety certification tests to ensure the safety level of the battery while optimizing its performance. The outer shell is shock resistant, and the interior is reinforced against collisions, making SuperPower Pro 2000W a rugged and reliable outdoor companion.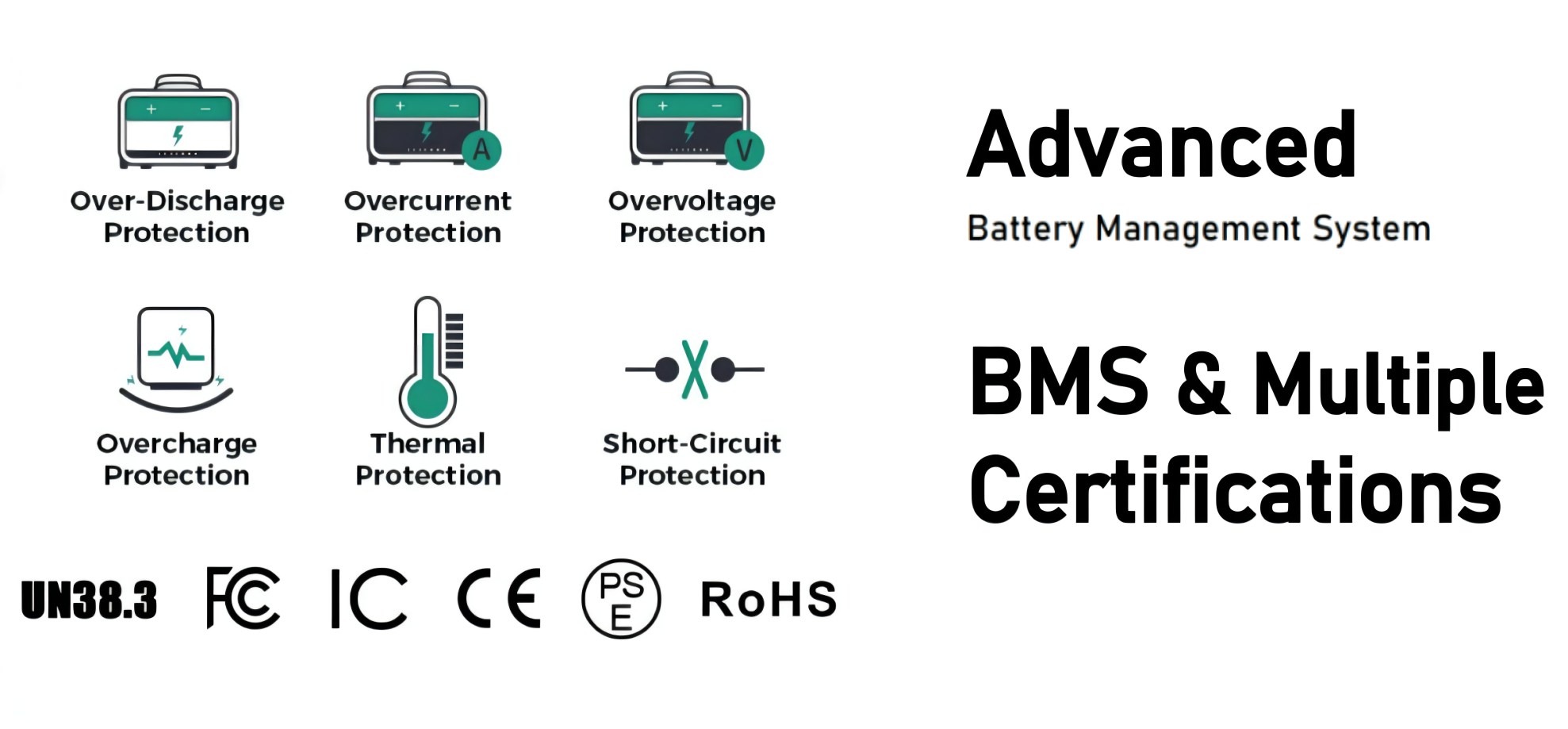 GET RID OF HEAVY HOT ADAPTERS
Time to get rid of bulky adapters. Just a single AC cable, unlocks super fast charging potential for your power station by taking advantage of IACDC using a Texas Instruments processor.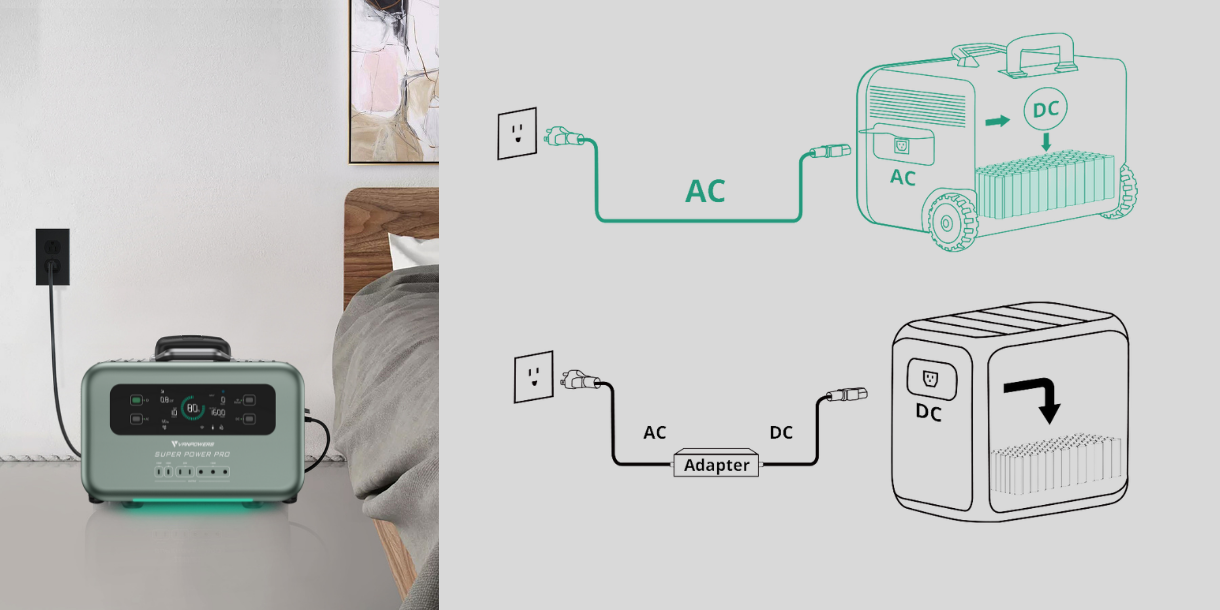 POWER YOUR LIFE AT ANY TIME AND ANYWHERE
Home backup, off-grid living, and van life, Vanpowers always be prepared for any situation.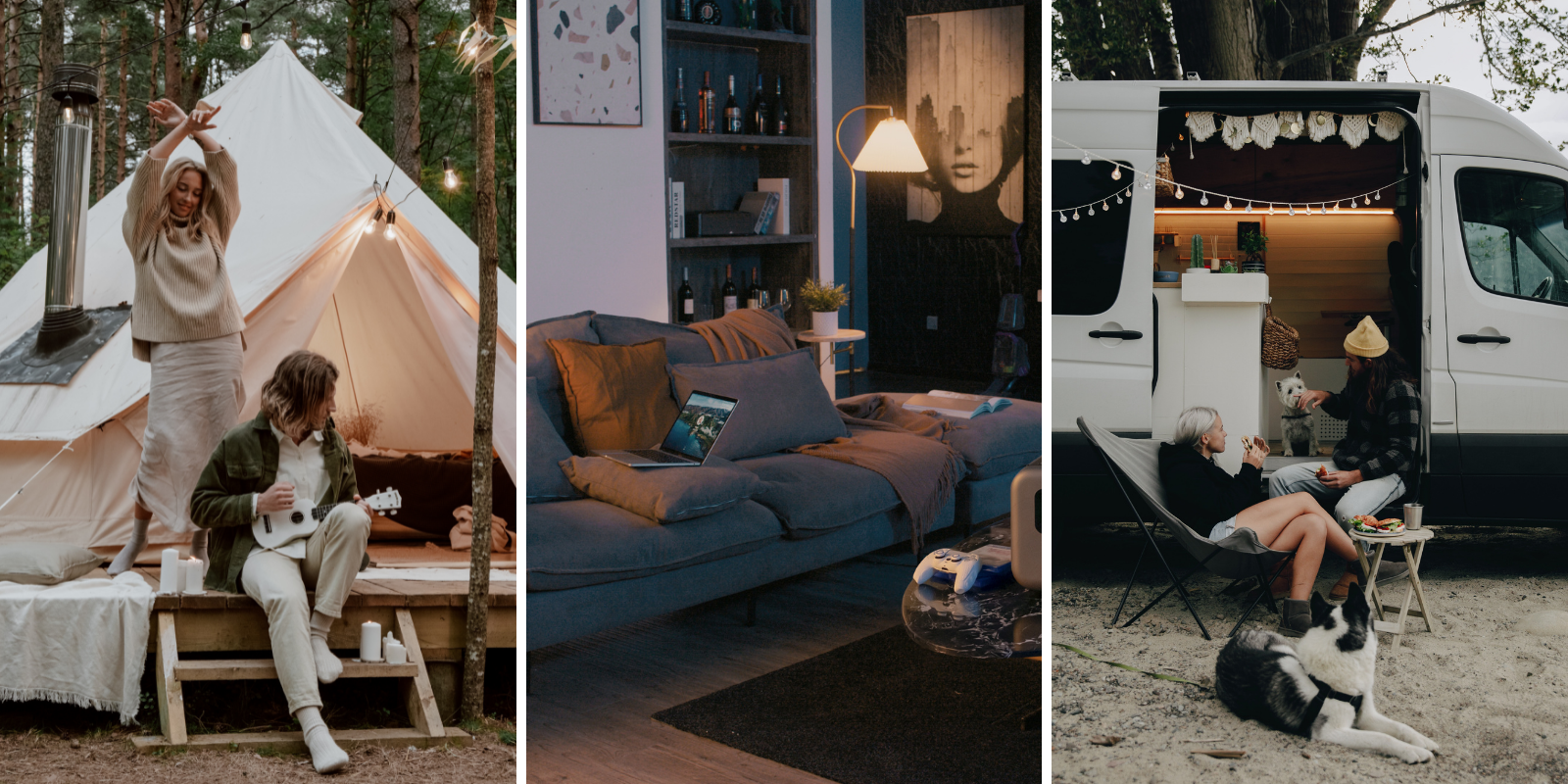 WHAT'S IN THE BOX
1. Power Station:
In the Package: ① 1*Vanpowers 2000W Super Power Pro Power Station; ② 1*MC4 to XT60 Cable; ③ 2*USB C to USB Adapter; ④ 1*Car Charger Cable; ⑤ 1*AC Cable; ⑥ 1*Accessory Pounch; ⑦ 1*User Manual; ⑧ 1*Warrranty Card.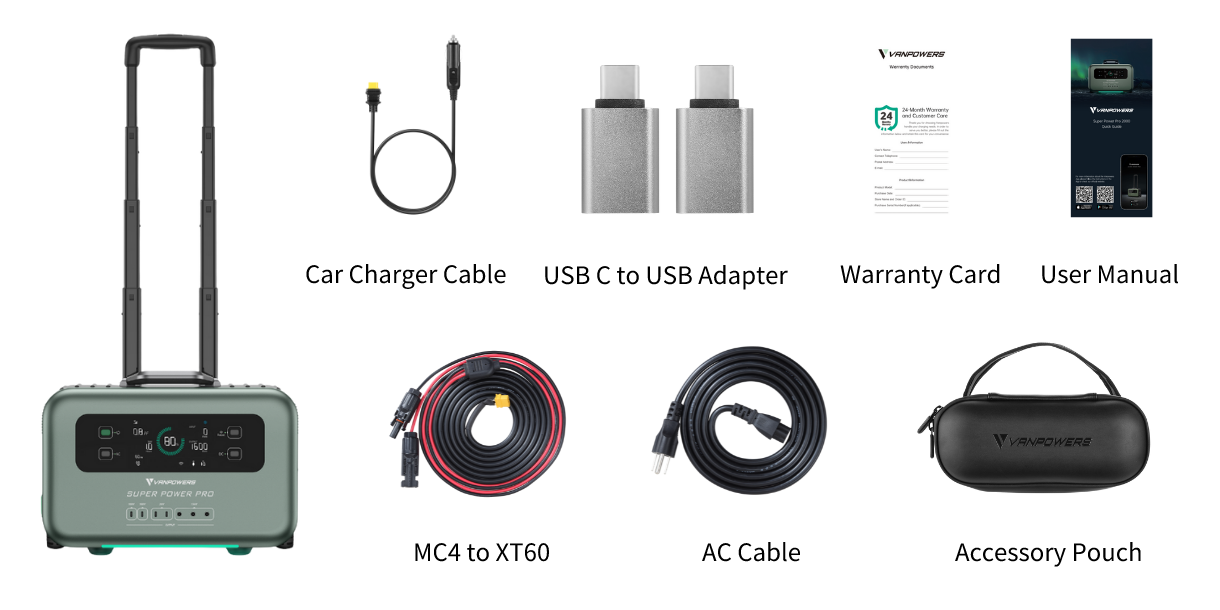 2. Solar Panel:
① 200W solar panel; ② A protective bag; ③ 4 in 1 cable: MC4 Connector to Anderson, DC5521, DC7909, and Car Charger; ④ 200W solar panel user Manual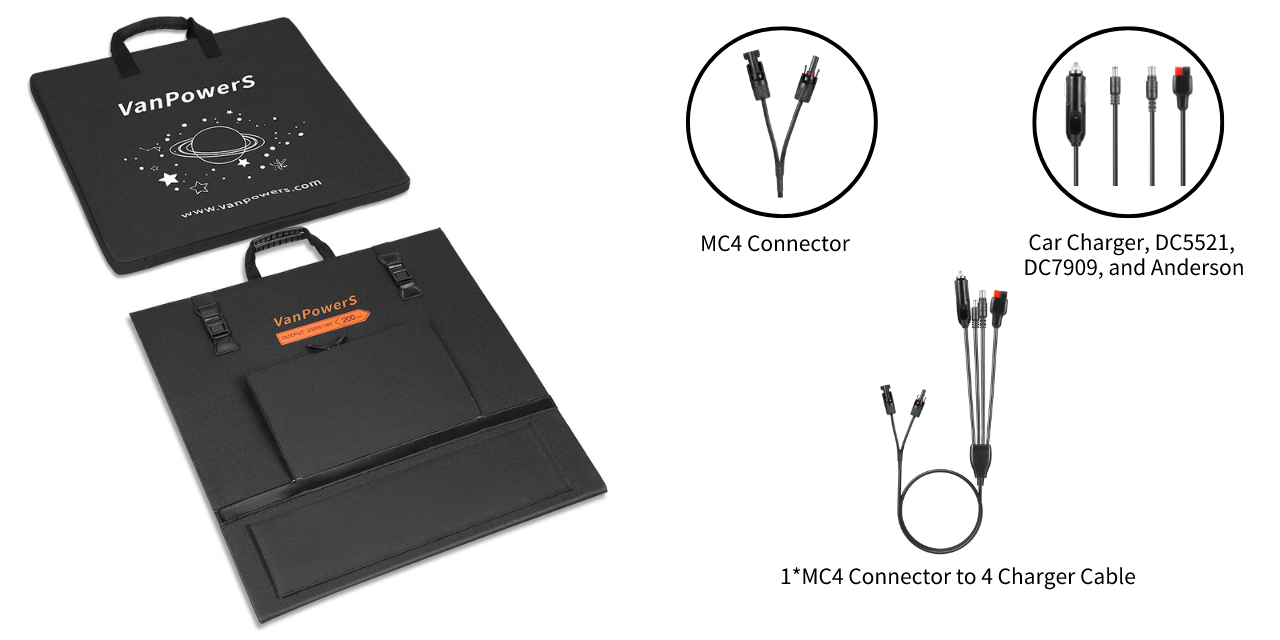 TECHNICAL SPECIFICATIONS
1. Vanpowers 2000W Portable Power Station: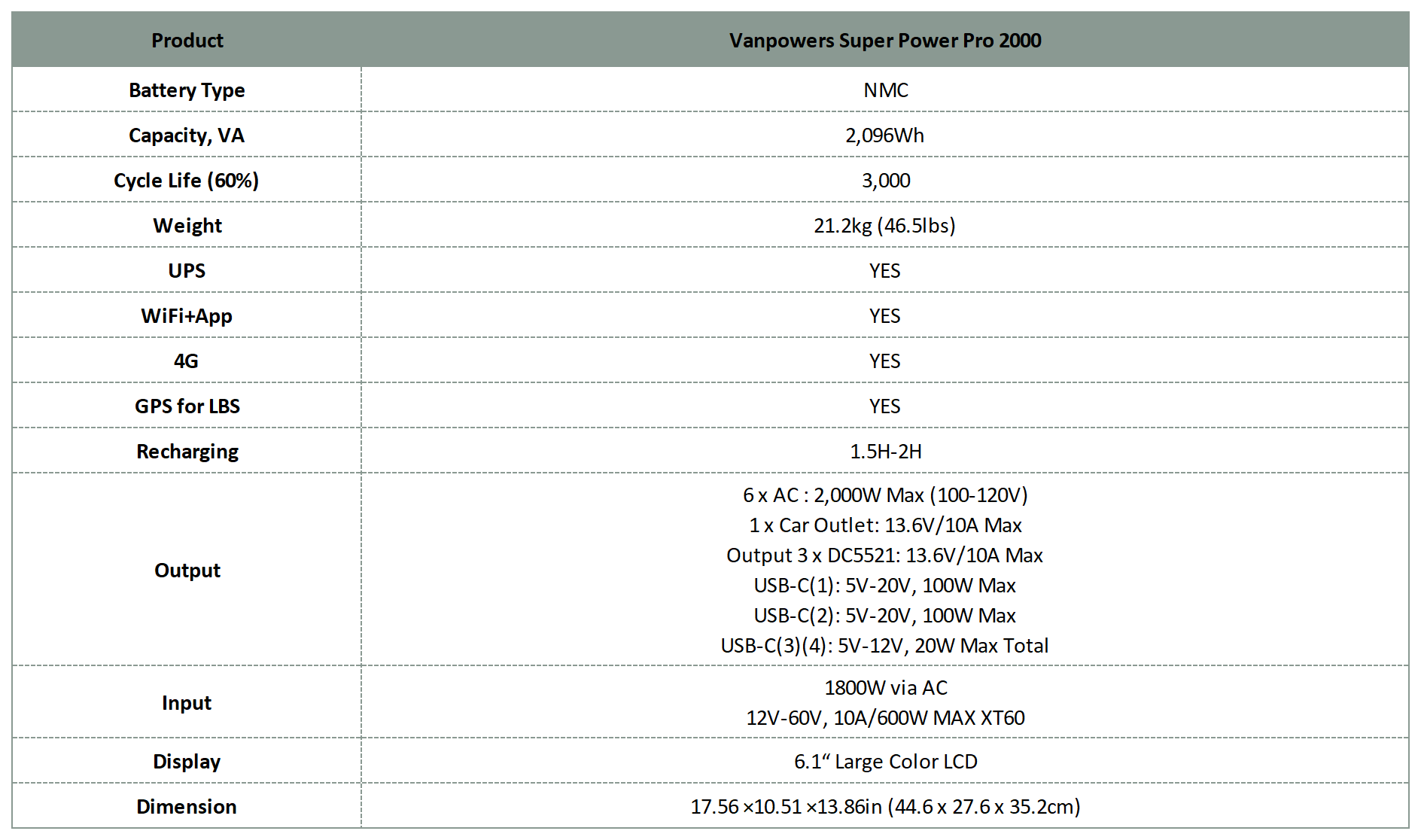 2. Vanpowers 200W Solar Panel:

Shipping policy
Speesion provides free standard shipping service for all online orders. With a local warehouse in the United States, it takes an average of 3-8 business days (excluding public holidays and weekends). Note: Shipping time varies by region/logistics.
All products sold on speesion.com are guaranteed to be delivered within 14 business days. If you have not received your products after this time, you are entitled to a full refund after a postal inspection.
Returns Policy
We offer a 30-day hassle-free money-back guarantee. This only applies to products purchased directly from Speesion. For all other purchases, please contact the retailer/distributor you purchased from directly and follow their return policy.
Generally speaking, if the customer receives the product, contact us to return it. After the customer returns the goods, we will refund the customer in 4-7 working days. We will refund your order directly from the backend of the Shopify website or via PayPal.