Zoom the image with the mouse
Vanpowers Solar Generator (PB600 Power Station+SP100 Solar Panel)
Free Shipping
on all US orders
Brand Authenticity
100% genuine products
Free Returns
online and in-store
Online Service
Outstanding Customer Service
Vanpowers Sunpower 100W Monocrystalline Solar Panel, Charge the Power of the Sun! With a conversion efficiency of up to 23%, it is ideal for outdoor living or even unexpected power outages. Weighing only 8.8 pounds, the solar panel is lightweight, foldable, and easy to carry.

This product is suitable for solar power generation systems and can provide power for portable power supplies.

Easy Setup & Kickstand Included: The SUNPOWER100 features 2 kickstands that can be placed firmly on any surface ground. With just a few seconds of setup, you can start soaking energy from the sun for your Vanpowers power station.

Durable & Splash-Proof: The ETFE-laminated case is durable enough to extend the lifespan of the solar panel. It is IP65 water-resistant that will protect from water splashing (Do not place it under the rain, or soak it in water). The zippers on the pocket can hold the power cords, and cover the power port.

It can absorb 40,000 LUX or higher intensity sunlight.

This product is equipped with DC, Type-C, and QC3.0 output interfaces, which can charge mobile phone batteries, smartphones, laptops, cameras, etc. at the same time

.
 Click To Download Vanpowers 100W solar panel User Manual
MORE POWER MORE FUN
Equipped with Sunpower monocrystalline silicon solar cells, Vanpowers SP200 solar panel conversion efficiency is as high as 23%. With ETFE up to 95% light transmittance, which can absorb 40,000 LUX or higher intensity of sunlight, it performs better than polycrystalline solar panels in low-light conditions and much higher than the market's average. And 45-degree folding bracket is the optimal angle is fully absorbed sunshine.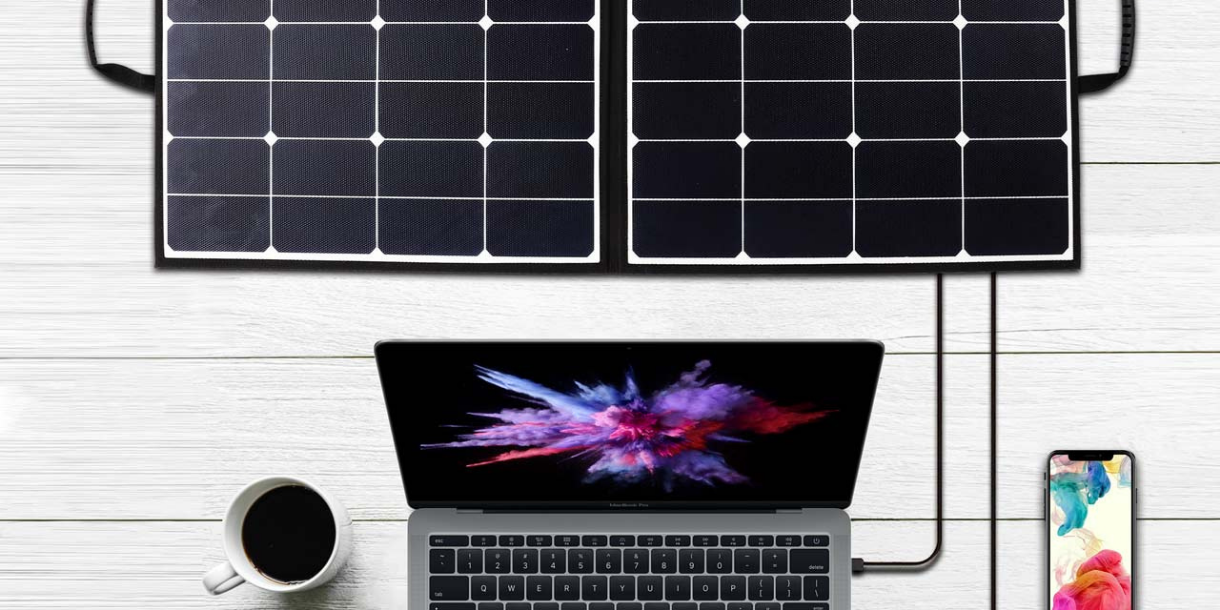 ALL-ROUND PORTABLE SOLAR PANEL
Foldable design, easy to carry. With an ergonomic handle, you can take the Vanpowers SP100 (only 3.9kg) to camp out or go elsewhere at your leisure. The folding design will take very little space in the car, making the trip more convenient and accessible.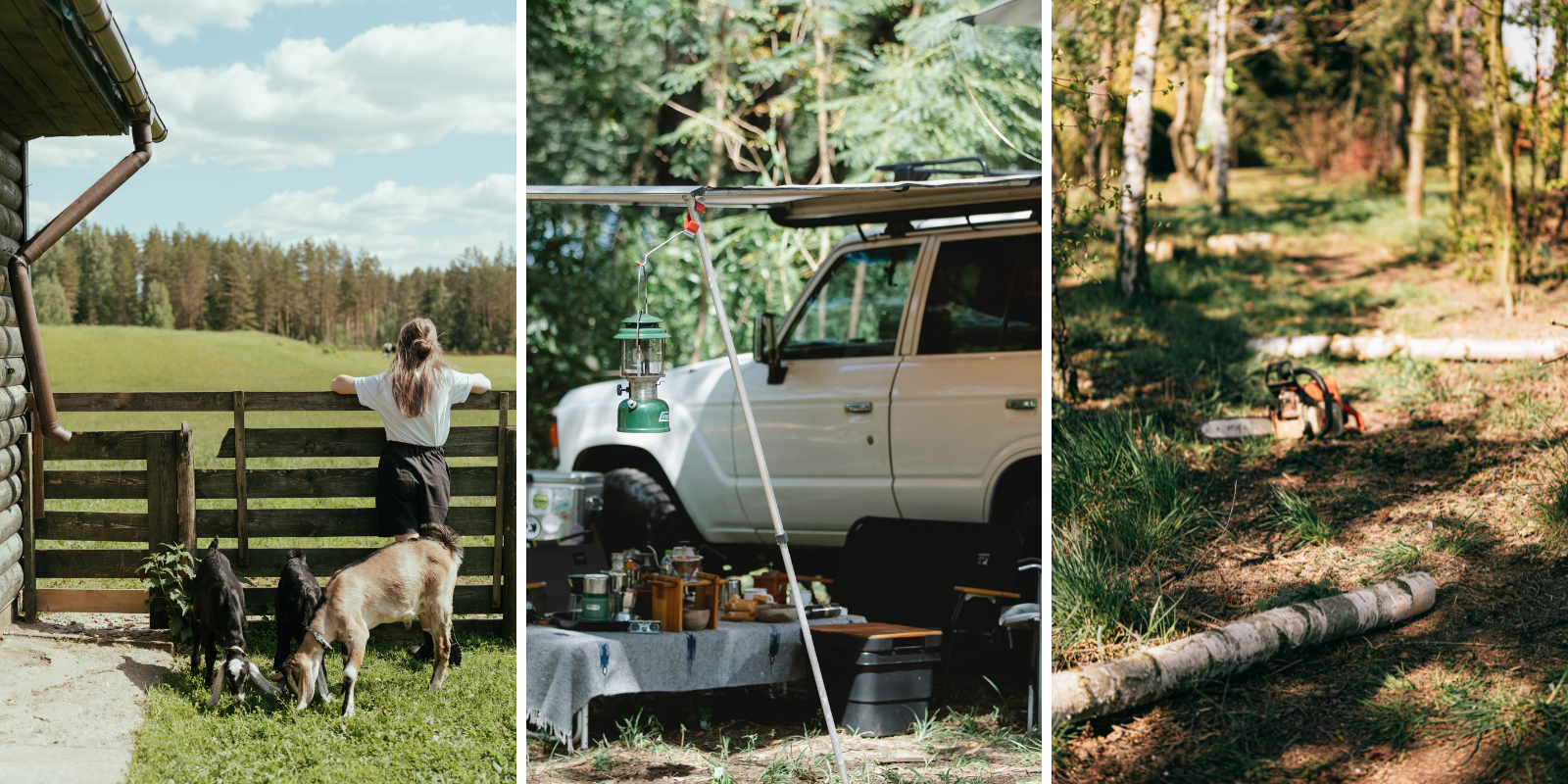 WHAT'S IN THE BOX
1.100W solar panel; 2.10 to 1 interface; 3. DC extension cable; 4. DC to Anderson cable; 5.100W solar panel user Manual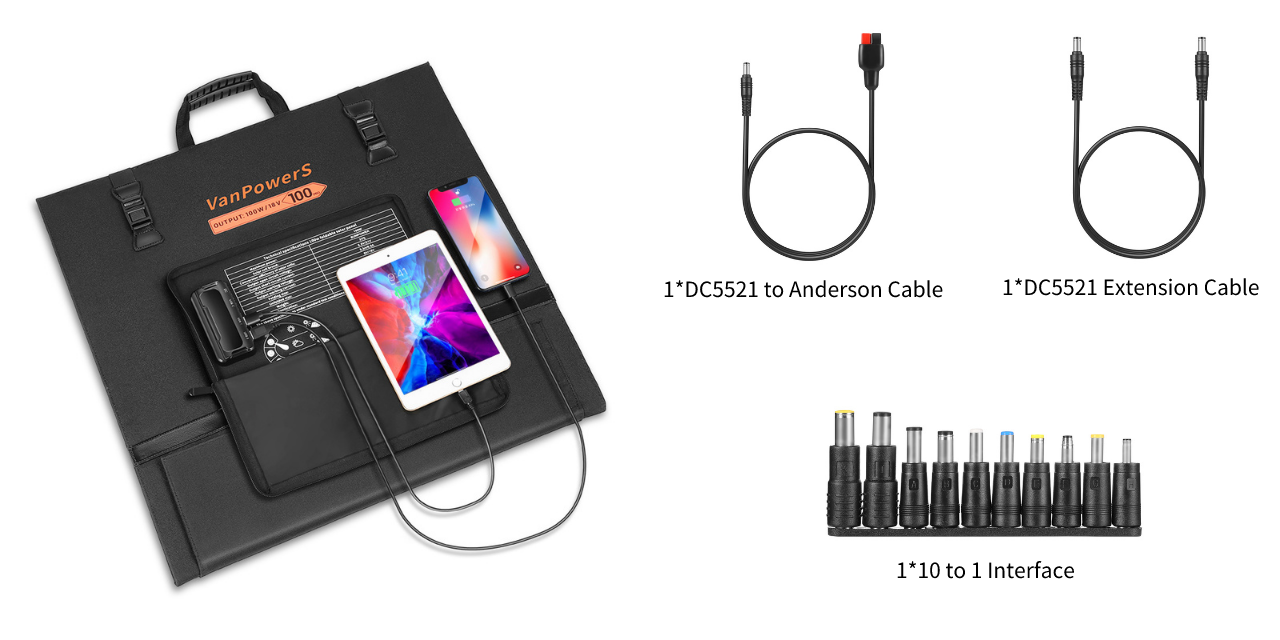 640Wh PREMIUM LiFePO4 BATTERY
The ultra-stable LiFePO4 battery chemistry creates multiple layers of protection while providing over 2000 charge cycles of the Vanpowers AC10 solar generator before reaching 80% capacity.

POWER 12 DEVICES SIMULTANEOUSLY 
The Vanpowers 600W has a 640-watt hour (200000mAh) lithium iron phosphate battery pack and a pure sine wave inverter. It features 2 AC power sockets (110V 1200W peak), 3 USB-A ports, 1 USB-C port, 2 DC ports, and 1 carport to run low,  1 12V Jump start,1 Back-up battery port,  Capable of powering most essential devices indoors and outdoors such as laptops, drones, projectors, TVs, coffee makers, etc.
 Click To Download Vanpowers AC10 600 User Manual
MULTIPLE OUTLETS FOR EVERY NEED
Equipped with a variety of outlets: pure sine wave AC outlets (110V 1200W peak), 3*USB-A ports, 1*USB-C ports, 2*DC outlets,1*car outlet, 1*12V Jumpstart, and 1*Back-up battery port, this Vanpowers portable generator is the perfect companion to charge your devices and small appliances during a weekend trip.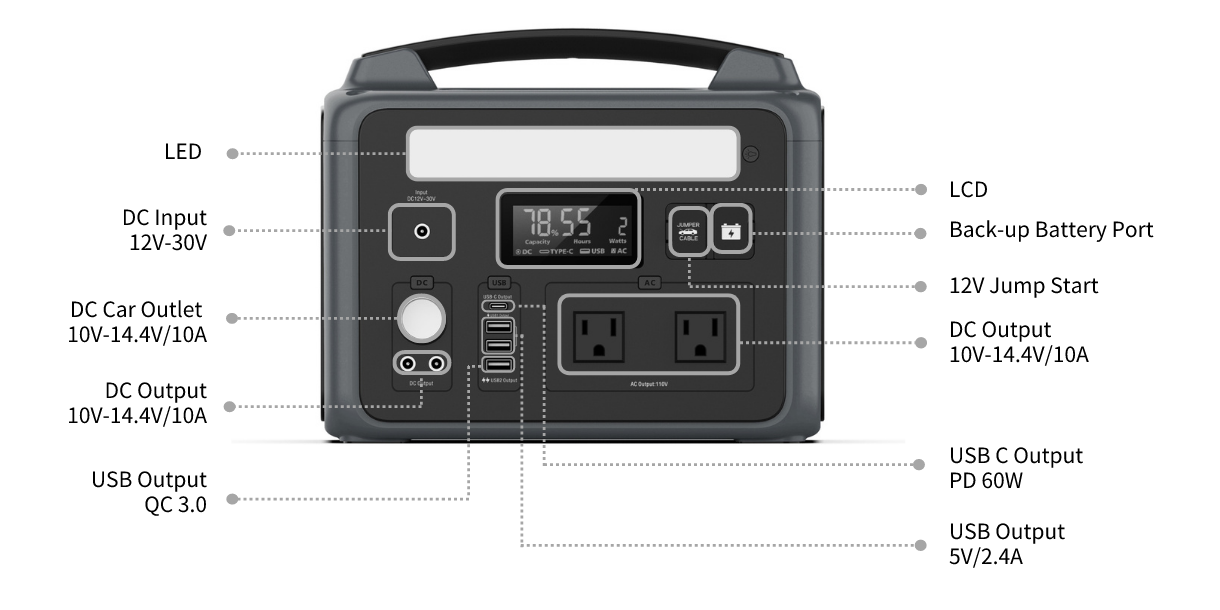 INCOMPARABLE JUMP-START FUNCTION
A unique 12V jump-start output, equipped with a car start clip, can help the car start in an emergency. Get charged in the way you prefer the car outlet and it's ready to charge.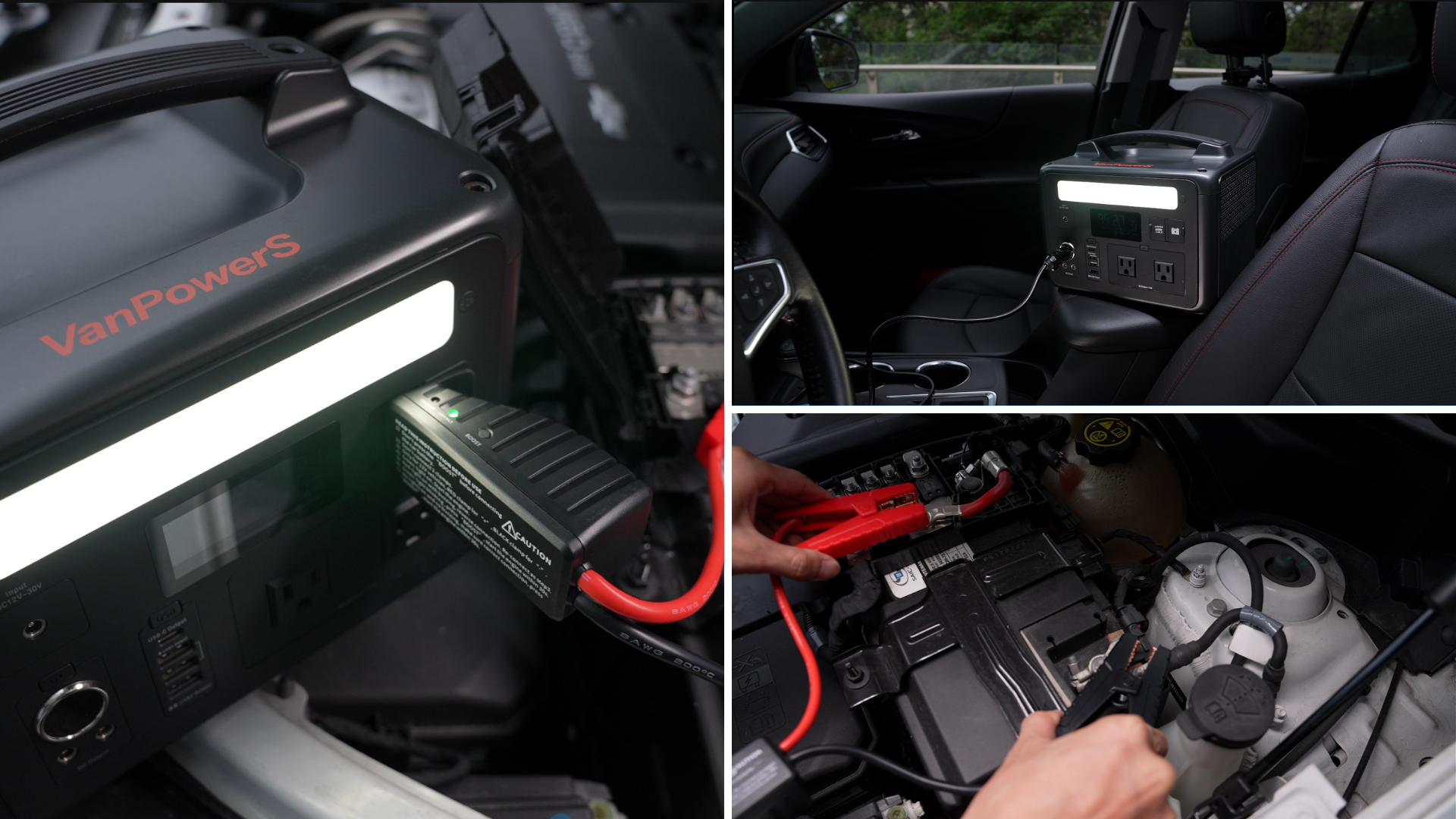 PORTABLE AND SPACE-SAVING
With a built-in ergonomic handle design, it can be easily lifted and moved with just one hand. And thanks to the compact size, you can easily store your Vanpowers 600W in your home or RV for use as emergency backup power during a blackout.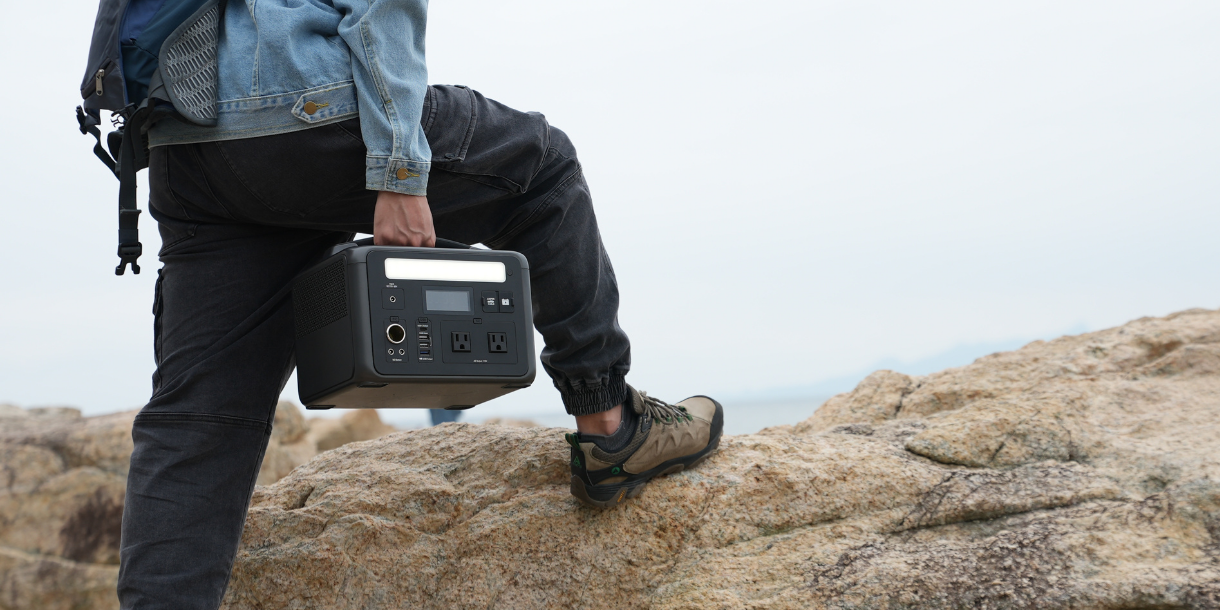 RUGGED AND DURABLE
Unique anti-collision and anti-seismic structure settings offer greater protection against the wear and tear of outdoor use. The high-strength engineering plastics and puncture-resistant steel plates and steel beams are designed to not be afraid of any puncture.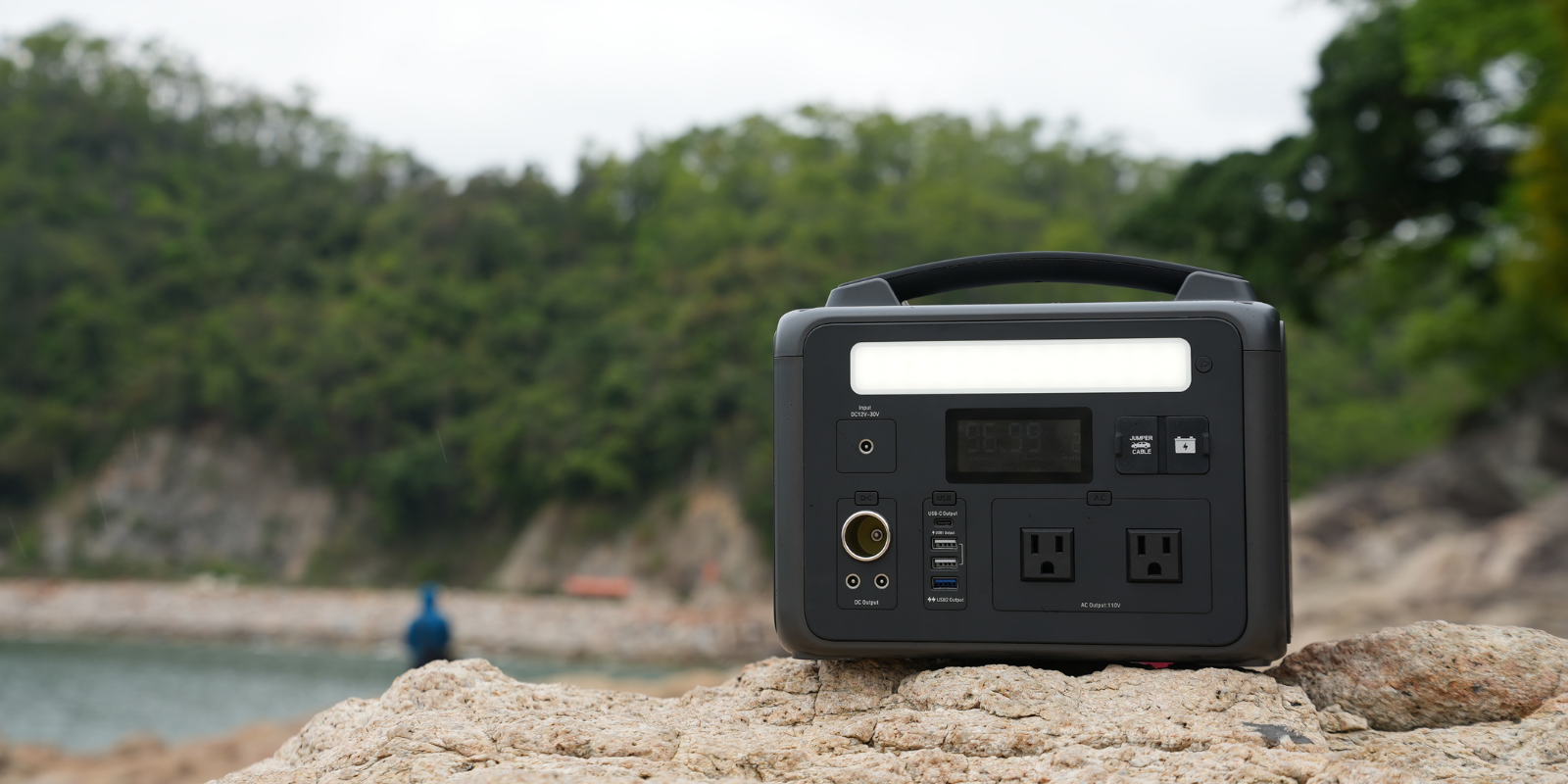 LIGHTING FOR ANY SITUATION
During your trips or emergencies, the portable power station serves as a source of light for added convenience, which can be switched between low brightness, medium brightness, full brightness, and SOS modes, illuminating your outdoor life.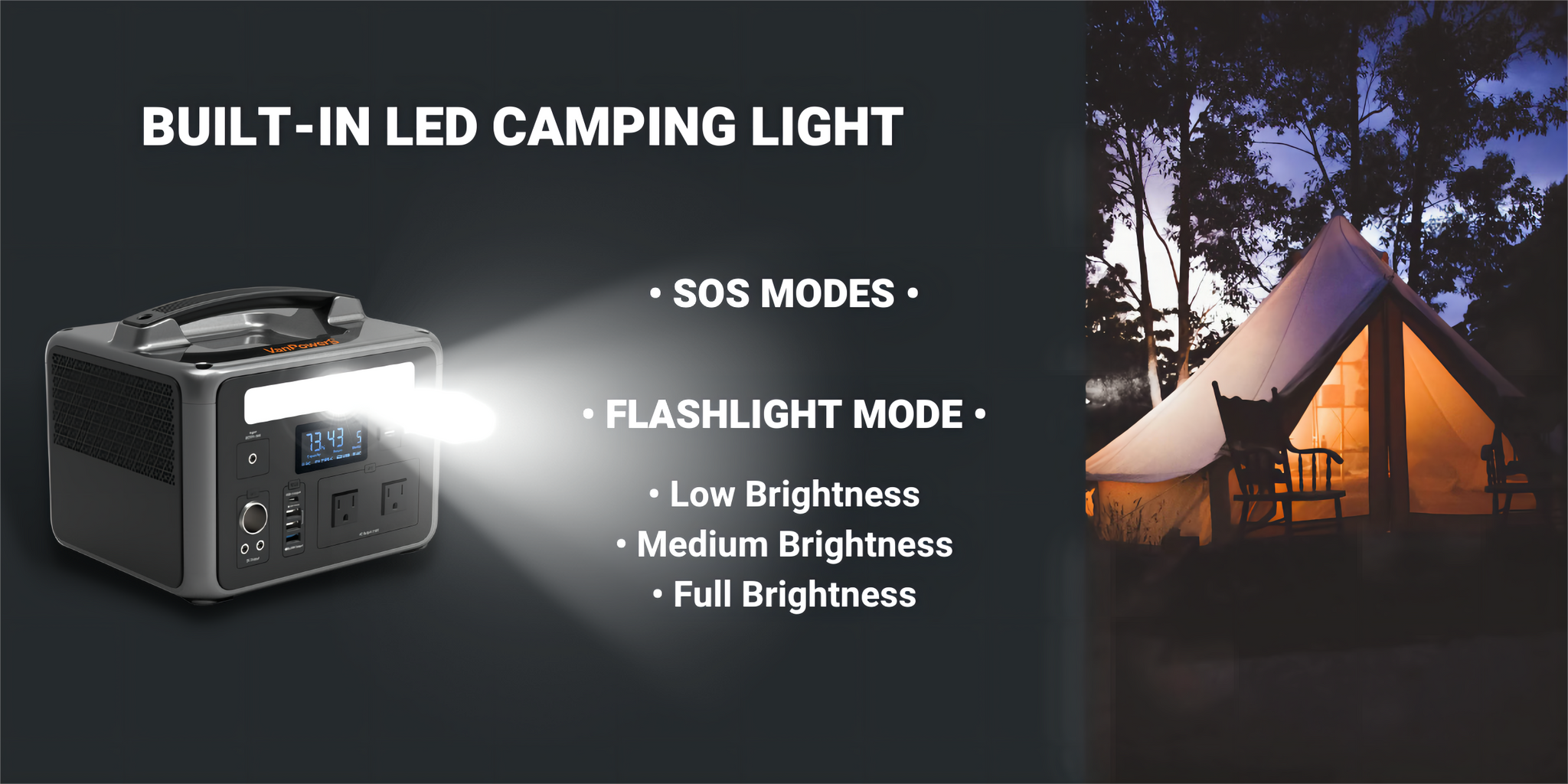 SUITABLE FOR VARIOUS OCCASIONS
Ideal for Camping/Fishing/Off-Road/Hunting/Getway/Emergency/RV, With its eco-friendly and quiet features, the Vanpowers PB600 is one of the best investments for your life. Its simple push-button operation makes it easy to use wherever you go.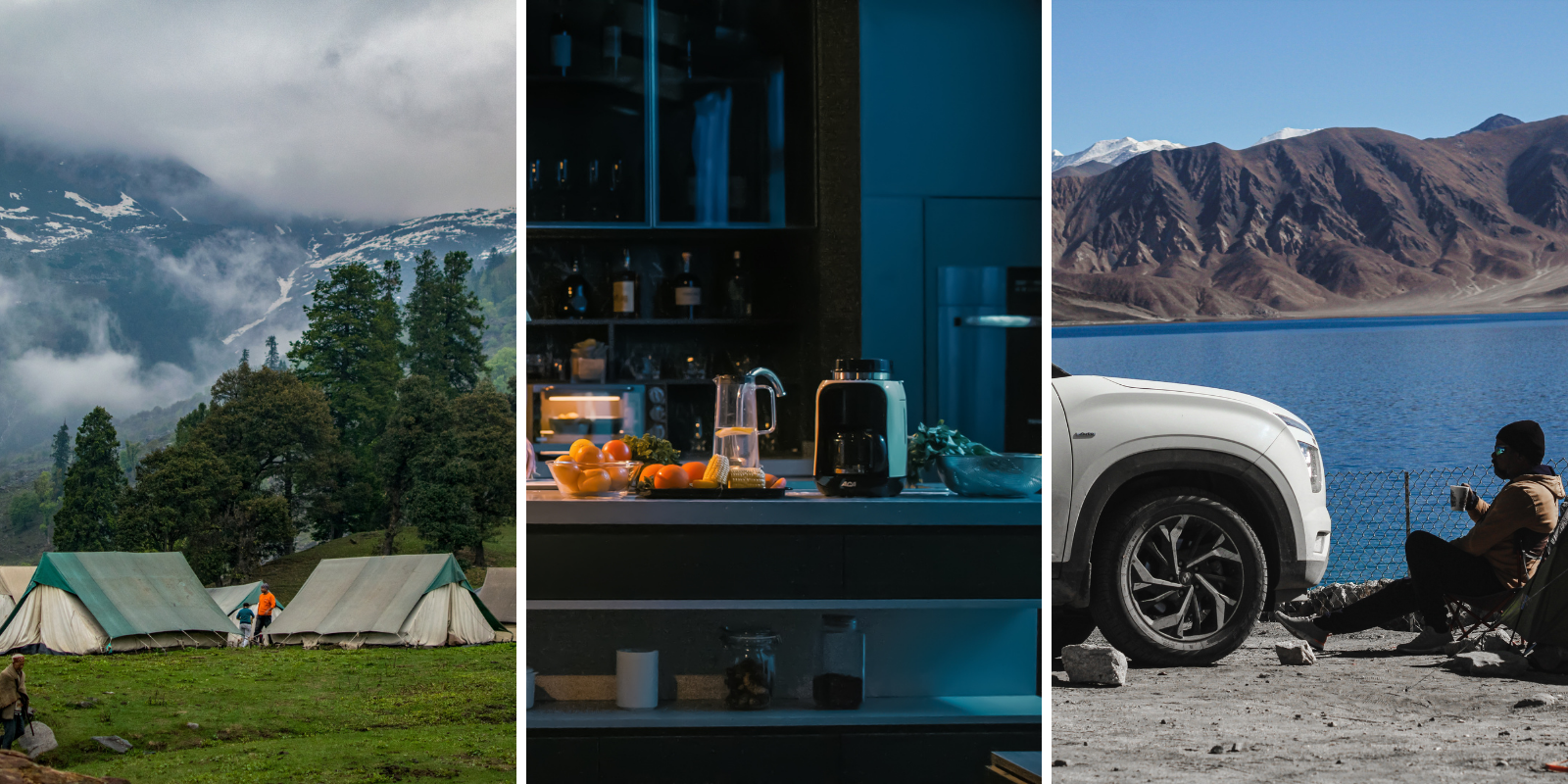 TECHNICAL SPECIFICATIONS
1. Vanpowers 100W Solar Panel:

2. Vanpowers 600W Power Station:

Shipping policy
Speesion provides free standard shipping service for all online orders. With a local warehouse in the United States, it takes an average of 3-8 business days (excluding public holidays and weekends). Note: Shipping time varies by region/logistics.
All products sold on speesion.com are guaranteed to be delivered within 14 business days. If you have not received your products after this time, you are entitled to a full refund after a postal inspection.
Returns Policy
We offer a 30-day hassle-free money-back guarantee. This only applies to products purchased directly from Speesion. For all other purchases, please contact the retailer/distributor you purchased from directly and follow their return policy.
Generally speaking, if the customer receives the product, contact us to return it. After the customer returns the goods, we will refund the customer in 4-7 working days. We will refund your order directly from the backend of the Shopify website or via PayPal.